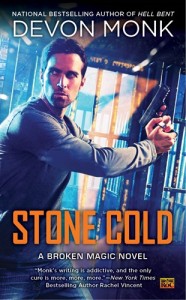 I was the guy who handled the darker side of things…
Marked by Life and Death magic, Shame Flynn and Terric Conley are "breakers"—those who can use magic to its full extent. Most of the time, they can barely stand each other, but they know they have to work together to defeat a common enemy—rogue magic user Eli Collins.
Backed by the government, Eli is trying to use magic as a weapon by carving spells into the flesh of innocents and turning them into brainless walking bombs. To stop him, Shame and Terric will need to call on their magic, even as it threatens to consume them—because the price they must pay to wield Life and Death could change the very fate of the world…and magic itself.
Buy from:  Amazon | B & N | Powell's | Indiebound
My Books
I write the House Immortal future-fantasy series…
…and the Age of Steam steampunk series…
Find my books at
About Me
Devon lives in Oregon with one husband and two sons.  Her series include the Allie Beckstrom  urban fantasy novels,  The Age of Steam steampunk series the Broken Magic urban fantasy spin-off books, and the House Immortal future-fantasy trilogy.
She also has a collection of short stories titled: A Cup of Normal.
When not writing, she is knitting silly things, or drinking too much coffee.